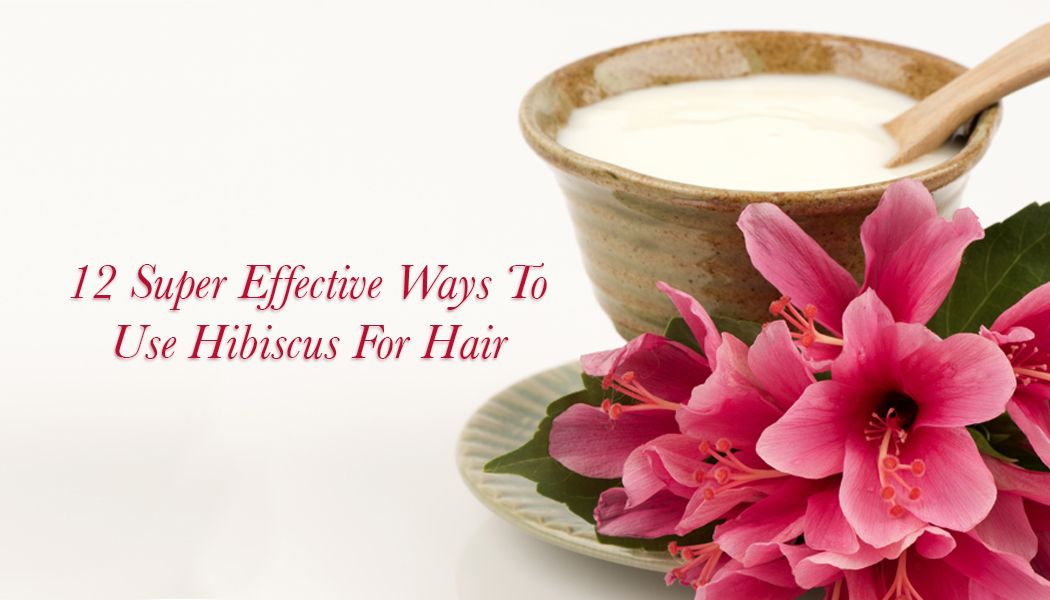 In Ayurveda, Hibiscus is one of the most renowned herbs for promoting hair growth. Yes, you read it right! Those bright and beautiful flowers growing in the gardens all around you have extraordinary healing properties.
If you suffer from hair loss, then Hibiscus flowers and leaves will serve as the perfect remedy for you and stop hair fall. Both hibiscus flowers, as well as hibiscus leaves, are used to cure hair problems.
Studies suggest that complete recovery from dormant hair follicles and bald patches is possible by using Hibiscus flowers. (1,2)
BENEFITS OF HIBISCUS FOR HAIR
If you're only just discovering the benefits of Hibiscus for hair, we've listed all of them to help you understand Hibiscus better and see if it's a fit for your hair care needs.
1. STIMULATES HAIR GROWTH
Lost hair volume and luster over the years? The naturally occurring amino acids in hibiscus flowers provide the hair with the nutrients help in promoting hair growth. These amino acids produce a special kind of structural protein called keratin, which is the building block of hair.
Keratin binds the hair makes them less prone to breakage. It also promotes the overall thickness of hair strands and makes hair more manageable. So, instead of turning to expensive keratin treatments that damage hair, you can start using Hibiscus on your hair.
2. CONDITIONS HAIR
The chemicals present in most of the shampoos strip the hair away from its natural oils. Have you noticed your hair turning dry and dull? Don't worry, you can use Hibiscus to nourish your hair and seal its natural moisture content!
Hibiscus flowers and leaves contain a high amount of mucilage which acts as a natural conditioner. It's because of this naturally occurring conditioner that crushed Hibiscus flowers and leaves feel slimy to the touch.
3. PREVENTS BALDNESS
Many research papers have been published after studying the use of hibiscus extract for treating baldness. All of these papers suggest that using hibiscus is a safe way for re-growing hair.
The use of hibiscus is as effective as the drugs used to treat baldness (Minoxidil and Finasteride). In addition to being equally effective, Hibiscus doesn't cause any of the harmful side effects associated with these drugs!
4. TREATS DANDRUFF AND ITCHY SCALP
Does your scalp suffer from excessive oil secretion causing problems like dandruff and itchy scalp? Hibiscus acts like an astringent and reduces the oil secretion by the glands. Using Hibiscus leaves for hair maintains the pH balance of hair in addition to providing an overall soothing and cooling effect.
5. PREVENTS PREMATURE GREYING
Traditionally, Hibiscus was used as a natural dye to mask grey hair. The antioxidants and vitamins present in Hibiscus help in producing melanin, the naturally occurring pigment that gives hair its natural color.
HOW TO USE HIBISCUS FLOWER FOR HAIR
As you already know, there are many uses of Hibiscus for solving hair related issues and maintaining overall hair health. But how exactly do you use Hibiscus flower for your hair?
Both Hibiscus flower and Hibiscus leaves can be used for hair in multiple ways as both of them have immense benefits for the hair. Let's look at some easy and effective ways.
1. HIBISCUS OIL FOR HAIR NOURISHMENT
Hibiscus oil rejuvenates the scalp and promotes hair growth. In short, it provides your hair with all the above-mentioned benefits of hibiscus. You can use it on your hair thrice a week to provide deep nourishment and improve blood circulation.
Process
To prepare Hibiscus oil at home, take about 8 hibiscus flowers and 8 hibiscus leaves and grind them into a fine paste.
Heat about a cup of coconut oil and add the paste to it.
Let the mixture heat together and then keep it aside to cool down.
Your hibiscus oil is ready to use. Massage your scalp with it for about 10 minutes and leave it on for about 30 minutes for best results.
After that, wash your hair and scalp with a mild cleanser.
You can even store the remaining Hibiscus oil for future use.
2. HIBISCUS SHAMPOO FOR GENTLE CLEANSING
Another great way to use Hibiscus for hair is in the form of shampoos. Because of their lather producing nature, Hibiscus leaves and flowers can be easily formulated into shampoos. Unlike other shampoos, natural shampoos made from Hibiscus cleanse the hair without stripping the scalp from its natural oils.
Kama Ayurveda's Sanobar Hair Cleanser is a mild hair and scalp cleanser with Hibiscus flower as one of its key ingredients. It nourishes and energizes hair to restores its healthy shine. It also has hibiscus extract that clarifies and tones oily scalp without stripping away essential moisture.
3. HIBISCUS CONDITIONER FOR SMOOTHER HAIR
The amino acids (Keratin) in Hibiscus make it an excellent conditioner. Hibiscus nourishes the hair follicles, soften the hair and make it more manageable.
To reap the nourishing benefits of Hibiscus for your hair, you can use conditioners that have Hibiscus as the key ingredient.
One such conditioner is Kama Ayurveda's Rose and Jasmine Hair Conditioner that combines Hibiscus extract with the essential oils of Rose and Jasmine to soothe and repair hair and make it stronger, shinier, and softer with every wash.
4. HIBISCUS AND AMLA HAIR MASK FOR HAIR GROWTH
Another way to make a hair mask using Hibiscus is to use it with amla powder. You can even Hibiscus powder for hair growth mask instead of using Hibiscus leaves.
Process
To prepare this mask, combine equal quantities of Hibiscus powder and Amla powder in water to make a smooth paste.
Apply it all over your hair and scalp.
Leave it for 40 minutes and then wash it off with a mild shampoo.
This mask will strengthen your hair follicles and help in maintaining scalp health. It also conditions the hair and makes it smooth and manageable. Hibiscus together with Amla helps in preventing hair fall and split-ends.
5. HIBISCUS AND YOGURT HAIR MASK FOR STRONGER HAIR
If you wish to make your hair roots strong, you can prepare Hibiscus hair mask using yogurt.
Process
Simply grind about 3-4 Hibiscus leaves and one Hibiscus flower to make a paste.
To this add about a cup of yogurt to make a smooth and consistent hair mask.
Apply this mask on your hair and leave it on for an hour.
Then, wash off the mask with lukewarm water and shampoo your hair using a mild cleanser.
Apart from making hair roots strong, this hair mask also helps in preventing premature greying of hair.
6. HIBISCUS HAIR MASK FOR TREATING ALOPECIA
Aloepia is the medical name for the condition of baldness. Hibiscus is a natural remedy for treating baldness. According to Ayurveda, the hair roots can get damaged due to excessive heat in the body. This leads to hair loss and a patchy scalp.
To treat this condition, prepare a paste by grinding 6-8 flowers and leaves of Hibiscus.
Apply it on the affected areas and leave it on for 3 hours. Wash it off and repeat the process twice a week to promote hair growth.
7. HIBISCUS HAIR MASK WITH ALOE VERA FOR SHINY HAIR
Organic Aloe Vera Juice and Hibiscus Extract create body, volume, and bounce by balancing and removing excess oils from the hair shaft, without compromising the integrity of the hair.
You can use shampoos that have Aloe Vera and Hibiscus as the key ingredients. Kama Ayurveda's Himalayan Deodar Hair Cleanser is a gentle formulation that clarifies hair leaving them soft, shiny, more manageable and frizz-free.
Alternatively, you can create a paste of Aloe Vera and Hibiscus flowers. Apply this paste to your hair and leave it on for 45 minutes. Rinse it off with lukewarm water. This hair mask will add shine to your hair and leave them soft and smooth.
8. HIBISCUS AND ALMOND OIL FOR NOURISHING HAIR
For ease of application and better conditioning, Hibiscus can be combined with Almond Oil or Olive Oil and then applied to hair.
Process
Grind about 5 Hibiscus flowers and 5 Hibiscus leaves to form a paste.
To this, add a teaspoon of Almond Oil (or Olive Oil).
Apply this mixture to your hair and leave it on for 30 minutes before washing off with lukewarm water.
This mixture will help in deep conditioning of hair and nourish hair follicles.
9. HIBISCUS HAIR PACK FOR PREVENTING DANDRUFF
If you want to use Hibiscus to treat dandruff, then this specific hair pack will be most helpful.
Process
To prepare it, soak a tablespoon of fenugreek seeds in water overnight.
In the morning, grind these seeeds with a bunch of Hibiscus leaves to make a fine paste.
To this paste, add half a cup of buttermilk and grind again to make a smooth paste.
Apply this to your scalp and leave it on for an hour. Wash it off with a mild shampoo.
You can apply this hair pack once a week to get rid of dandruff.
10. HIBISCUS HAIR PACK WITH HENNA FOR DANDRUFF TREATMENT
If you apply henna to your hair as a part of your hair care regime, you can add Hibiscus to it to prevent dandruff.
Process
Grind Hibiscus flowers and Hibiscus leaves with Henna powder (or Henna leaves) to make this hair pack.
Add half a lemon to this mixture and apply it generously all over your scalp and hair.
This pack will balance the pH of your scalp, fight oiliness and build-up of dandruff. Leave it on for an hour and then wash it off with a mild cleanser.
11. COCONUT MILK WITH HIBISCUS FOR SPLIT ENDS
Coconut milk is an excellent remedy for dry hair. Combined with Hibiscus, it helps in preventing split ends and repairs hair by conditioning them.
Process
Add crushed Hibiscus petals to Coconut milk.
To this mixture, add Honey, Aloe Vera, and Yogurt to prepare a smooth paste.
Apply this paste to your hair and leave it on for 30 minutes before rinsing it off with lukewarm water.
This hair pack will help in preventing hair-splitting and breakage due to dryness. If your hair is brittle, then you should consider using this on your hair at least once a week.
12. HIBISCUS AND ONION FOR HAIR REGROWTH
If your hair seems to be losing volume and thickness, then this hair pack of Hibiscus and Onion will be helpful as both the ingredients boost hair growth.
Process
Start by grinding one onion to make pulp. Strain this pulp to obtain onion juice.
Similarly, grind hibiscus leaves also with water to make paste and then strain it obtain its juice.
Mix the two juices and start applying them to your hair and scalp.
Leave the mixture on your hair for 15 minutes and then wash it off with lukewarm water.
You can use this mixture on your hair as often as thrice a week. Using it regularly will help in increasing the overall volume and thickness of your hair. You can even add Ginger juice to this to further enhance hair growth.
13. HIBISCUS AND EGG FOR HAIR GROWTH
Egg white is added to hair masks to provide hair with the necessary proteins. Hibiscus hair mask can also be made by combining it with eggs whites.
Process
Take about 3 crushed Hibiscus flowers and add them to 2 Egg whites.
Mix the ingredients thoroughly to get a smooth paste.
Apply the paste to our hair and let it stay for about 20 minutes. After that wash it off with a mild cleanser.
This pack helps in controlling oiliness and hair fall. It also regulates the overall pH level of the scalp and promote hair growth.
14. NEEM LEAVES AND HIBISCUS FOR HAIR GROWTH
Using Neem leaves on hair is a recommended solution in Ayurveda for maintaining scalp health. Combine it with Hibiscus and you get the perfect remedy for hair thinning.
Process
Obtain Neem juice by grinding the neem leaves and keep it aside.
To this, add the juice obtained by grinding and straining Hibiscus leaves.
Leave it on your scalp for 20 minutes. After that, wash it off with lukewarm water.
You can use this mixture on your hair twice a week to nourish your hair follicles and keep your scalp healthy.
CONCLUSION
Hibiscus is a powerful ingredient for your hair that helps in curing a lot of hair problems without causing any harmful side effects. Hence, it's a wonderful idea to start including in your hair care regimen.
Be it in the form of shampoos that contain Hibiscus or in the form of natural DIY Hibiscus hair treatments, you've plenty of options to choose from.
Who could have thought that this flower with an assuming appearance and no fragrance will turn out to be a magical cure for your hair related hassles? Not just the flower, but even Hibiscus leaves are so effective for hair.